Windows
To operate with Regula's and other supported hardware devices on Windows locally, install the Desktop version of Regula Document Reader SDK.
Minimum System Requirements
To install the Document Reader SDK Desktop for Windows, your system must meet the minimum requirements as follows in the table below.
| | |
| --- | --- |
| OS | Windows 7 |
| CPU | Intel Core 2 1.8 GHz |
| RAM | 2 GB |
| Video RAM | 32 MB |
| SystemBus | USB 2.0 High Speed |
| HDD free space | 1 GB |
Install SDK
Regula software products for Windows are available via Regula Downloads Manager, the unified tool for downloading the installation packages.
Follow the instructions to install the Document Reader SDK Desktop.
1. Launch Regula Downloads Manager.
2. Open the Document Reader SDK tab.
3. Select the checkbox next to the desired Document Reader SDK package option.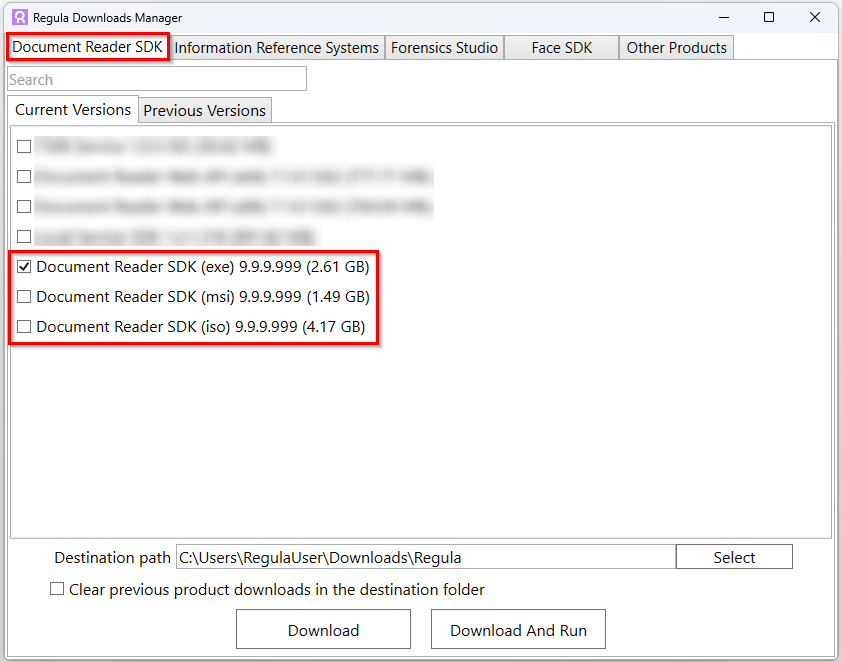 Available SDK installation package variants:
.exe files
.msi files
.iso image
The installation packages differ in file extensions and provided additional materials, but have the same general contents:
A set of libraries
Device drivers
Documents database
The .iso package represents an all-in-one software image, distributed with Regula devices; it contains the excessive product information and documentation. In case you're not exactly sure, what package to download, .msi or .exe will be the good choice to go.
4. Click Download or Download and Run: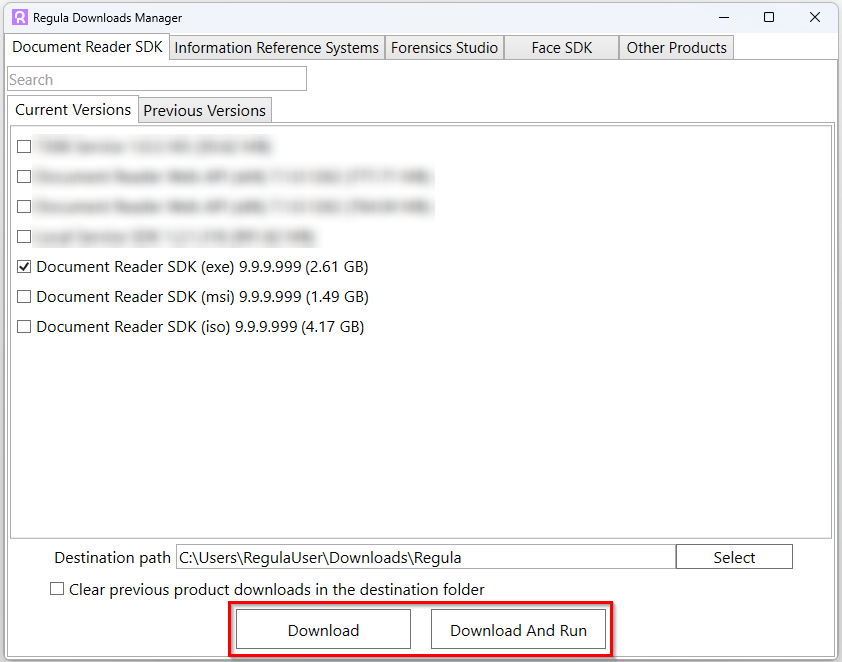 5. Wait until the selected installation package is downloaded.
6. Navigate to the download directory. It's C:\Users\<your_username>\Downloads\Regula by default.
Regula Document Reader SDK supports both x86 and x64 processor architecture types. Regula Drivers are available for the device on x64, x86, and Arm64 architectures. You need to select the combination of installers that fits your environment.
7. Install the concrete downloaded package in accordance with the instructions listed in the next table.
Package
Instructions
.exe
Install Regula Document Reader SDK for your PC architecture (x64, x86, or 7308 to be used exactly with that Regula device).
.msi

Install Regula Document Reader SDK for your PC architecture (x64, x86).
Install Regula Documents Database for your PC architecture (x64, x86).

.iso
Launch autorun.exe and select the desired option, for example "Install SDK".
Regula Document Reader SDK Desktop is installed on your PC. Now it needs to be initialized with the valid license.
For additional details about Regula Document Reader SDK structure, capabilities, and use, see sections 1-3 of Document Reader SDK Programmers Guide.
Initialize SDK Instance
To access all the capabilities of the Document Reader SDK, you need to initialize it with a proper hardware or software Regula license. The hardware license is bound to the device's unique ID, while the software one is generated based on your technical environment setup (where SDK is actually executed). Both hardware and software license types work offline, that means you can install and update them locally.
For all the extensive details, see the Document Reader SDK Licensing article or contact us directly to discuss your concrete case.
Congrats! 🎉
Regula Document Reader SDK is successfully installed and initialized.
Next Steps